For years I have made birthday cakes in the Swedish style, both for friends and for my own birthday. Everyone always loves them, and they are surprisingly easy to make. No, it is not as easy as going to Walmart and buying a ready made cake, but it tastes so much better, and you don't have all that sugar and icing.

4 eggs
4 dl sugar (13,5 oz / 1.7 cups)
3 dl white flour (10 oz / 1.27 cups)
2 dl corn starch (6,8 oz / .85 cups)
4 tsp baking powder
4 tsp vanilla sugar (or some vanilla essence)
2 dl boiling water (6.8 oz / .85 cups)

Beat eggs and sugar until fluffy, about 4-5 minutes, with an electric hand mixer.
Add flour, corn starch, baking powder and vanilla flavoring and gently stir by hand until it is smooth and any lumps are gone. If you use the mixer, the cake will be too compact.
Add the boiling water while stirring.

Brush a cake pan with butter and cover the inside with bread crumbs. I actually use semolina that I buy in Sweden, but I think farina might be easier to find in US stores. The bread crumbs or semolina makes the cake not stick to the pan, and gives it a nice crust.
Pour the batter into the cake pan. It will rise, so make sure you don't pick a too small cake pan. I use a springform pan, it makes it very easy to get the cake out.
Bake for about 30 minutes in 400 degrees F (200 C). Put the cake upside down on a rack and let cool in the pan.

After the cake cool down, I slice it horizontally into 3 layers. I can now start decorating the cake. Start by whipping a quart of heavy whipping cream and a little bit of vanilla flavor (preferably vanilla sugar, you can find it at IKEA). Make sure the cream is nice and solid and not runny or soft, as it will be going on the sides of the cake as well.

On top of the bottom layer I put a thin layer or jam, often blueberry or blueberry/raspberry. I then put a thick layer of vanilla creme (about 1/2 inch). I make it using a Swedish vanilla sauce mix, using more powder and less milk. I know IKEA used to carry it among their Swedish food products until they stopped selling anything but their own store brand. You can find it online, though. And I am sure you can find alternatives.
On top of the vanilla creme you can put fresh berries, I often use blueberries. When you put the middle layer on top, it will push the berries into the vanilla creme by itself, so don't press down!

I then mash a banana or two and mix with some of the whipped cream. This goes on top of the middle layer. I then put the top layer on place and cover the whole cake in whipped cream. Finally I decorate with fresh fruit or berries. I most often use strawberries, blueberries and/or blackberries. You can also (especially for children) make a "mushroom cake". Take pieces of banana and place them vertical in top of the cake. Then place apricot halves on top of them, like the hat of a mushroom.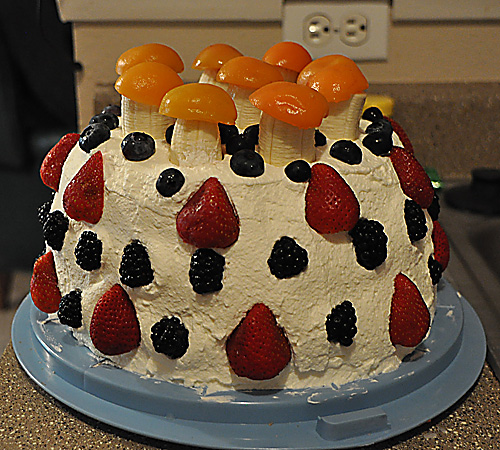 In Sweden, cake is not served with ice cream. Serve with coffee, tea or lemonade for the kids.